A chalkboard easel or sandwich sign is such a versatile piece for decorating and parties, it's a must have! While planning a baby shower, I decided I just had to have one! After doing an intense Pinterest search for ideas and designs, I came across Amy Baesler's DIY Chalkboard on Remodelaholic.com. I chose her plans because it included a detailed cut list and the chalkboard seemed well built. I'd love to put mine on the front porch for parties, so it has to withstand Kansas wind.
Join me as I follow Amy's plan to build my own DIY Chalkboard!
Time: weekend (drying time may change your time required)
Cost: $45
Please Note: Some of the links below are affiliate links for products I love! If you decide to click on one of these links and make a purchase, I may earn a commission at no extra cost to you. Thanks for your support!
Step One – To The Hardware Store!
Pro Tip: In hindsight I wish I had bought better quality wood for this project. I purchased a full sheet of 1/4" plywood ($15) because I'm going to be smart, and I didn't want to spend $10 for a quarter sheet of nicer grade wood. A rip-off right? Wrong, buy the smoothest plywood you can. It will save you a bunch of time later when you have to use wood filler on the rough grain and repeatedly sand it.
3 – 1″ x 3″ x 8′ boards
1 – 1″ x 4″ x 8′ board – optional
1/4″ plywood sheet (or 1/2 sheet if your store sells them)
2 hinges
chalkboard paint
1 1/4″ pocket screws (softwood)
1 1/4″ brad nails
20″ rope or string
wood glue
sandpaper
stain/paint
My additions
1/2" Staples
2 eye hooks
Wood filler
Don't forget your ear and eye protection!
Step Two – Cut All The Pieces
Amy's Cut List
4 – 3/4″ x 2 1/2″ x 42″
4 – 3/4″ x 2 1/2″ x 19″
2 – 1/4″ x 20″ x 32″ (make this larger if stapling to the back)
4 – 3/4″ x 3 1/2″ x 3 1/2″ optional or (2 1/2″ x 2 1/2″ for smaller accent pieces)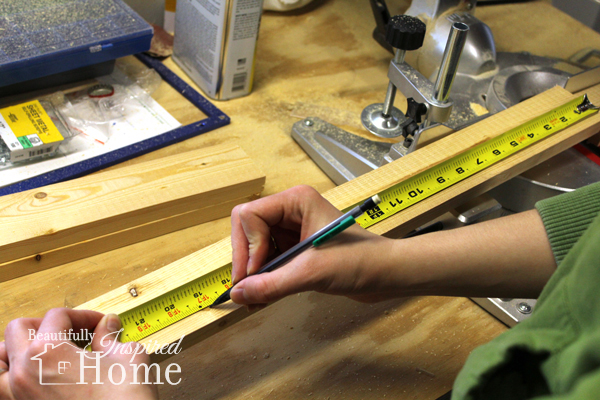 Now in her design she cuts a groove and insets the chalkboard into the frame. I went the other route and stapled mine to the back of the frame. If you decide to do this as well add 1" to the length and width of your 1/4 plywood.
I did all the cutting first starting with the 1x3s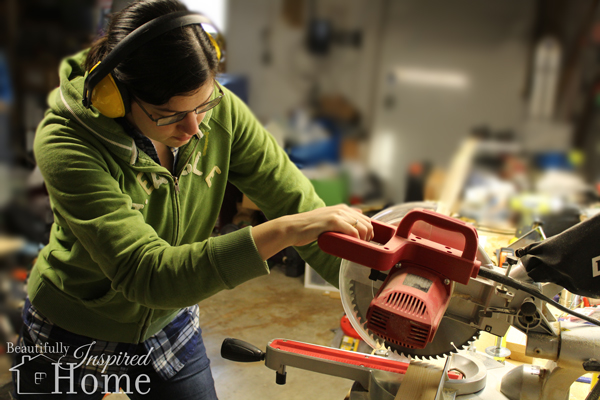 I used the table saw and circular saw to cut the plywood down to size.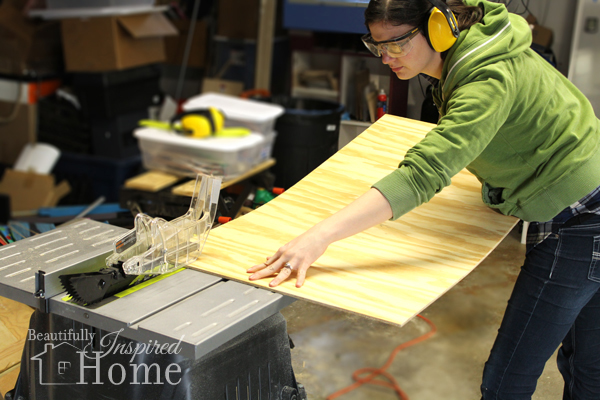 Step three – Pocket Holes
On all the 19" boards you want to drill 2 pocket holes on each end.
Pocket holes are a magical way to assemble two pieces of wood. If you don't have a pocket hole jig you need to get up right now and go get a Kreg Jig. It makes such beautiful joints and is my husband's favorite tool in the garage. I secretly think he finds projects just so he can bust it out.
Step Four – Sanding
I sanded all the boards before assembling them. It was easier to sand with the grain when the boards were disassembled. This is not the last of the sanding, so don't put that sander away quite yet.
Step Five – Assembling the Frame
Measure up 6" from the bottom of the frame and double check all your corners are square before gluing and screwing it together. I laid mine on the floor to make sure everything stayed flat.
Step Five – Accent Corners
Amy lists this as an optional step, but I think it adds such character to the chalkboard that I highly recommend doing this step. This is what the 1×8" board is for, though yours does not need to be that large. I used a scrap piece of wood. You need to cut a 3 1/2" square and then draw or trace a curve onto one corner. She used a paint can for the curve 1/2" from the edge. I used a jigsaw to cut the curve then the belt sander to refine and smooth it.
Pro Tip: you can also check out the decorative trim pieces at your hardware store if you want something fancier.
Attach them with wood glue and brad nails
Step Six – Time to Paint
I went with a stain instead of painting the frame for a rustic and versatile look. I used Minwax Gel Stain in Walnut and applied it with a soft cloth. Be sure to wear a rubber glove as it will stain your skin. Work in small patches and apply with the grain. Follow the instructions on the can!
I decided against coating the frame in polyurethane. I don't intend to leave this outside for long periods of time so just the stain should be fine. If you intend to use this as decoration for your front porch, I highly recommend sealing the wood with a polyurethane to protect it. Allow your finish to dry. In the meantime, start on the chalkboard.
Step Seven – Finishing the Chalkboard
This is where having nice, smooth plywood comes in handy. For a good finish using Chalkboard paint the smoother your surface the better. I had some deep wood grain in my plywood so to prepare that surface I applied wood filler to the deep spots with a putty knife.
Once the filler dries, sand it all smooth and remove all dust with a cloth. I applied two coats of primer and sanded in between coats with a fine sandpaper.
Now you are ready to apply the chalkboard paint! Stir the paint thoroughly. It should have an even color. I used a sponge roller for a smooth application instead of a brush.
Paint in light even coats. Occasionally step back and look at your surface from a sharp angle. If it looks like this you need to lightly go back over the board to smooth out the ridges.
Your board should look like this when done properly.
Let the chalkboard paint dry thoroughly.
Step Eight – Pulling It All Together
You are in the home stretch! Now lay your two frames flat on the floor and align the edges for the top hinge. I left a small gap between the two tops for the hinge and the plywood on the back so when collapsed the easel will lay flat.
Measure 4 1/2" in from the edge and mark the hinge holes. Pre-drill and insert the screws.
Take the two chalkboards and line them up on the back. Evenly space them on the frame. I used a staple gun to attach the boards every 4-5"
Finally I added two eye hooks and attached twine to keep it from opening too far.
Ta Da! You now have a beautiful chalkboard sign to decorate your home or for the next party!
I used mine for a baby shower a few days later. Word to the wise, chalkboard paint has to cure before you can write on it. So don't be like me and build yours far enough ahead of time to actually use chalk.
Be sure to check out Amy's plans at http://www.remodelaholic.com/diy-chalkboard-easel/
Thanks for reading! Leave a message if you've made a chalkboard. I'd love to see them!