Before and After
How I brought our ugly brick backsplash into the 21st century with a little paint.
I'm not sure who thought it would be a good idea to use red brick facade as a kitchen backsplash. Maybe in the early '90s it paired well with the oak cabinets and yellow walls, but today we're bringing the kitchen into this century and giving it a crisp clean look. Eventually I'll paint the kitchen a light airy blue/green color and painting the backsplash in a light gray will complement that nicely. Here is how I tackled this project!
Supplies:
Masking tape
Old paint brush
Cardboard
Damp towel or paper towels (for drips)
Primer
Satin latex paint (or glossier finish)
Paint can opener or screwdriver
Shop Vac or vacuum with brush attachment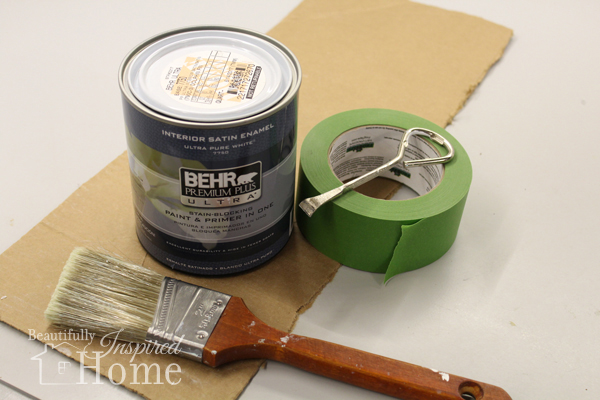 Clean the brick
Preparing the brick is key to this project! Brick and mortar have such a rough texture all the dust and grime get caught really easily in all the nooks and crannies. Use a shop vac or vacuum hose with the brush attachment and work across the entire surface. If yours was greasy like mine near the stove use a grease cutting cleaner and rag to remove all the residue.
Remove hardware
Remove any light or electrical faceplates for easy painting. This will ensure complete coverage incase you want to change faceplates at a later date.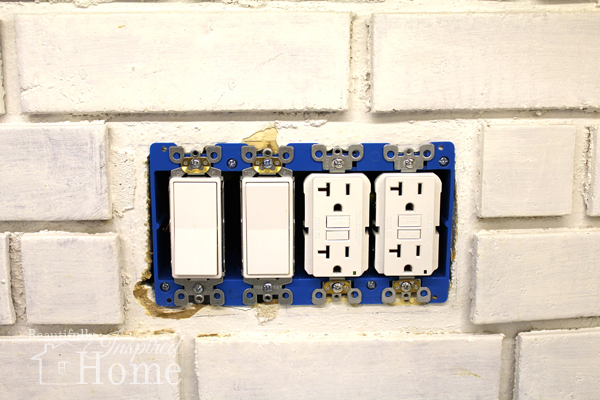 For projects like this I put all the plates and screws in a zip bag so those tiny screws don't get away from me. Plus if your project takes an extended amount of time you can label the bag so you know exactly where they go back to.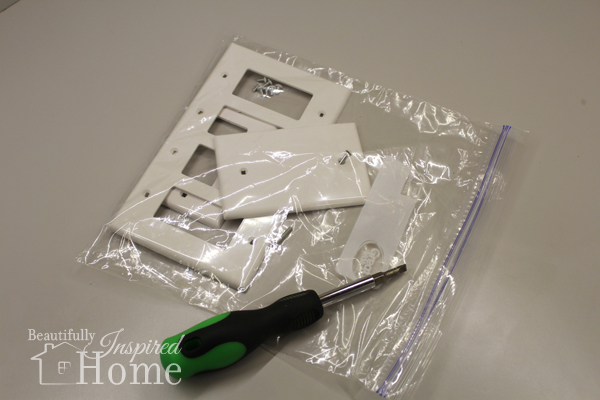 Masking tape
Protect the surrounding areas with tape. No matter how precise of a painter I think I am, I always get paint where I don't mean to. For this project, I took the time to protect all the cabinetry with tape.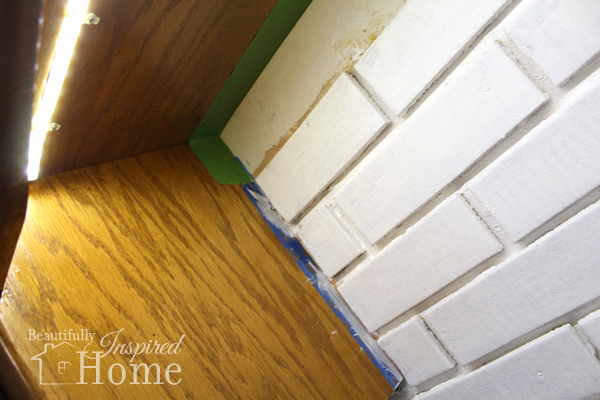 I did not tape off the counter ledge. I struggled to get the tape down under the edge of the brick and onto of the counter. Instead I cut up a thin cardboard box and used it to stop the paint and it worked pretty effectively.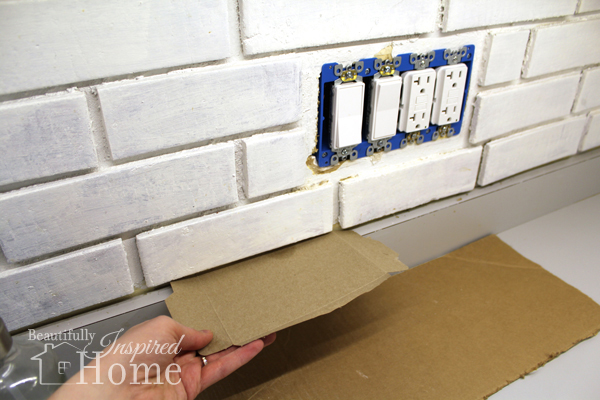 Just move it along the edge as you paint.
Prime
The brick was so porous and bright, I opted for BEHR all in one primer. Use an old paint brush for this project. To get into all the crevices, I found I had to almost scrub the brush back and forth at different angles to get good coverage.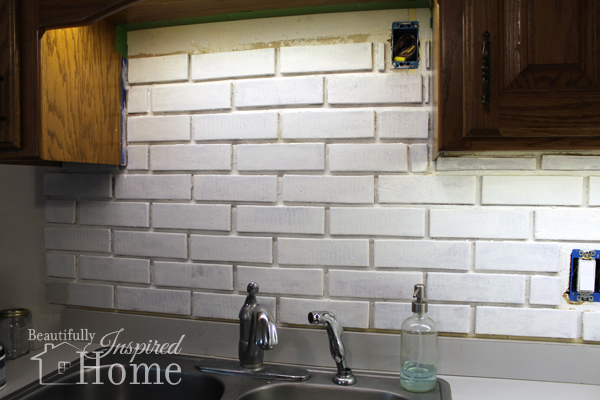 Paint
Once the primer has dried you can jump right into painting! I used BEHR Ultra Satin Enamel in Dolphin Fin. Because the kitchen has a high potential for spaghetti sauce to fly and the need to be able to wipe down the brick is high, I chose a glossier paint than maybe what you'd put on the wall. The satin was a good compromise between ease of cleaning as shininess.
When painting be sure to hold your brush at different angles to get complete coverage.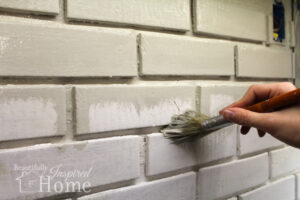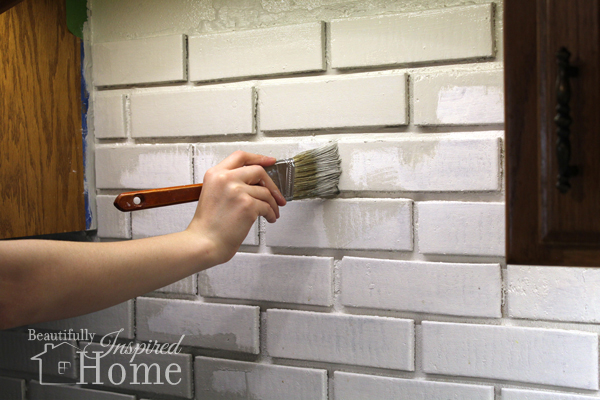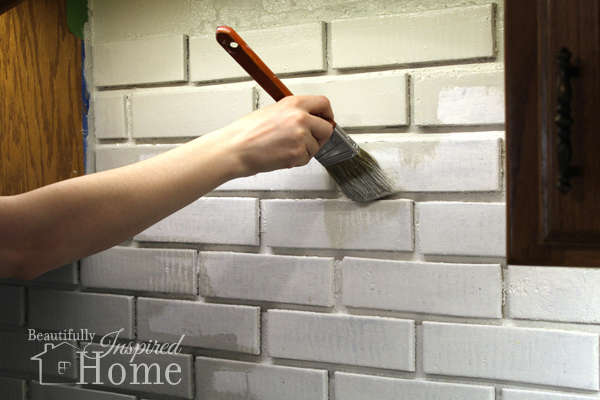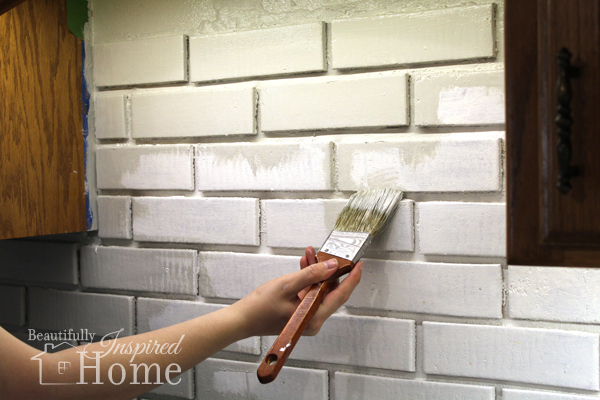 Change your perspective frequently as you paint. It is easy to think you have covered an area to only get lower or shift to the side and see missed sections.
Finishing Touches
Once the paint dries, look for missed spots and touch up. Remove the masking tape and install any faceplates.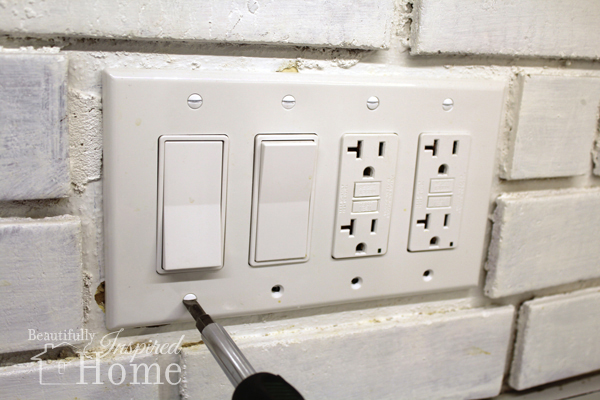 The change to our kitchen is immense! It is bright and fresh now.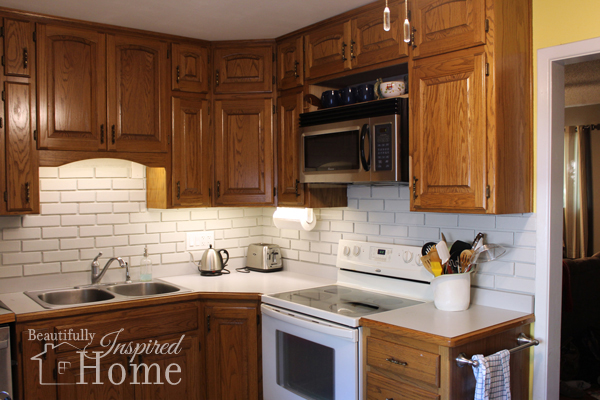 We are transforming our kitchen one project at a time. Can you spot all the changes? We moved the refrigerator across the room and put a dishwasher in its place with a cabinet we built and a counter top from Habitat Restore. We tore out the range hood and replaced it with an over the range microwave. Now we don't hit our heads anymore while cooking! The random blue glass and florescent light over the sink is gone and replaced with LED strip lights above the sink and under the cabinets. Soon all the walls will have a new skim coat and they will be ready to paint.
Have you painted brick before? What did you learn from that project?